The Twentyfifth Anniversary Logo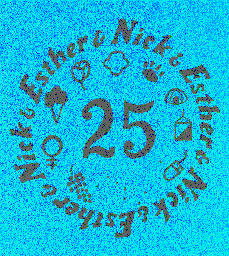 For our 25th anniversary, we had a party and a family reunion. The extended family (about 30 of us) went to Marine World-Africa USA. This is the the logo that Nick designed for our T-shirts. The background started as teal.

Starting at 12 and moving clockwise, we have:
a trefoil (for Girl Scouts)
a cats paw
a dome tent
an orienteering control
a computer mouse
the Big Dipper and North Star (for astronomy and Alaska)
grapes (for wine)
a feminist symbol
a (chocolate) ice cream cone
a California golden poppy.
For our holiday card, we transposed this idea onto a wreath. The symbols were (in the order as above):
a patch from the navy aGS dult uniform and a Silver Award pin
two clip-on cats
a minature Coleman lantern and a miniature knife (which says 25 - Nick & Esther)
an orienteering control
a calculator (for the computer)
the Big Dipper and North Star
a bottle of (honest, it really is) Cabernet Sauvignon labeled Esther & Nick 1971
a peace symbol and two half globe earrings (hey, we use what we've got)
Hershey's chocolate (milk chocolate for s'mores, Special Dark for what we like)
a cable car
And we threw in a teddy bear.
---
Return to my home page.
---
Esther A. Heller, Independent Consultant and Trainer <esther@galarc.com&gt
San Francisco Bay Area, California
Last updated January 2, 1997